On March 17, 1985 sixty-six people met at the John F. Kennedy Community Center in Arizona City for the first worship service of what would become Central Lutheran Church.
On March 9, 1986, the church was formally organized as a member congregation of the America Lutheran Church (now the Evangelical Lutheran Church in America – ELCA) with 109 charter members.
The construction of the Arizona City worship facility was completed in April of 1989, with the first worship service held on April 16th.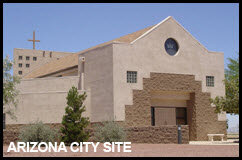 On November 22, 1992 Thom Stephens was installed as the congregation's first full time pastor. Pastor Thom is a graduate of the University of Puget Sound (1979) and Luther Theological Seminary (1984) and has served as pastor in Scottsbluff, NE and Scottsdale, AZ. He and his wife, Alyson, live in Arizona City and have three adult children.
In April of 2002 the newly constructed activity building was dedicated.

In 2006 Central Lutheran Church celebrated 20 years of touching the lives of the hundreds of members and visitors who have passed through its doors. The membership of the congregation presently consists of approximately 140 families.
In October 2009 the congregation opened its second worship site in Casa Grande. The multi-site model being used emphasizes one congregation, one staff, shared resources, at two locations.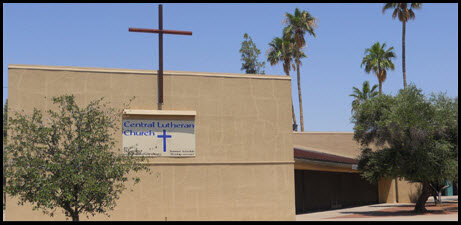 January 2020: We celebrated the 30 year anniversary on the completion of the Central Lutheran Church Arizona church building by opening a "time capsule" from the cornerstone of the church building. A video of the original 1989 dedication worship service was enjoyed.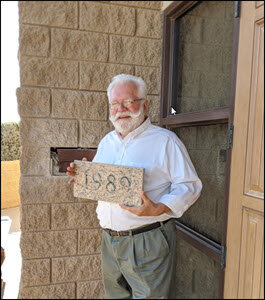 Gary Isaacson holding the 1989 cornerstone plaque to the time capsule that his father actively placed 30 years prior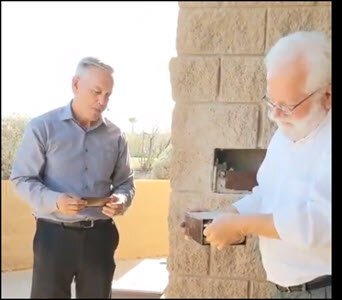 Pastor Thom and Gary opening the 30 year old time capsule
In April of 2019 Pastor Thom retired and the congregation began a search process for a new pastor.
On May 18, 2020 During the search, Pastor AnneMarie Burke served as an interim during the difficult time of the beginning of the COVID pandemic, where no indoor worship was being done and many new process for worship were started to reach the disciples.
Later In 2021 Pastor Bob Kleinke, a retired pastor and member of Central Lutheran, served as the interim pastor until a new pastor was called by God to the congregation.
In November of 2021, Pastor Douglas Dill was called to serve as the pastor of the congregation. For more information on Pastor Doug, Click Here.