Pastor Doug was called by God, through the people of God at Central Lutheran, November 21, 2021. Prior to coming to Central Lutheran, He served as pastor for First Lutheran in South Sioux City NE and Calvary Lutheran in Minong WI. Pastor Doug is a graduate of Wartburg Theological Seminary, Dubuque IA. While in seminary, he served as pastor for Fulton Community Church, Fulton IA. Prior to entering seminary, Pastor Doug served as a Deacon for four years at Trinity Lutheran Church, Rolling Meadows IL. While serving as a Deacon, he had all the same responsibilities and duties of an Associate Pastor.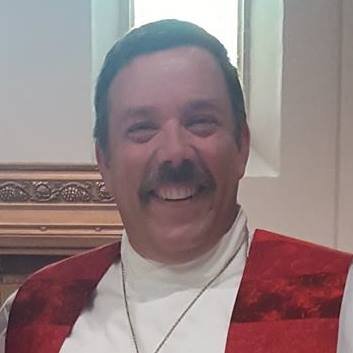 Pastor Doug is a "second career" Pastor. Prior to receiving a call from God to become a pastor in Christ's church, he held a variety of occupations. Most recently he spent 16 years in the Information Technology field, where he worked on computers, servers and VoIP. Prior to that he was a police officer for nearly 9 years in two departments, in Chicagoland.
Pastor Doug and his wife, Kris, have been married since 1989. They have two children: Travis, born in 1993, who lives in NE. Becky was born in 1996. Becky currently resides in WI and is an educator and was married to her husband Bevan in 2020.
Pastor Doug and his family have two dogs, both of which are Heelers. One is a Red Heeler named Houdini and the youngest is a Blue Heeler named Granite.
The family loves to be outside with the dogs and take them hiking. Pastor Doug is an avid fisher, although he had missed out on some fishing since being in Seminary. He is looking forward to do some fly fishing for trout.
Contact Pastor Doug on his phone at 402-235-6969 or email him.
Email: pastordoug@CentralLutheranAZ.org
If you would like to follow Pastor's blog, where he posts his sermons in audio and video formats, follow the link below.