First of all, the, I urge that entreaties and prayers, petitions and thanksgivings, be made on behalf of all men, for kings and all who are in authority, so that we may lead a tranquil and quiet life in all godliness and dignity. This is good and acceptable in the sight of God our Savior, 1Timothy 2:2-3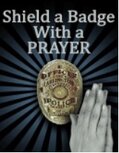 The Shield a Badge with Prayer is a program where citizens simply agree to pray daily for a Casa Grande police officer known only by their badge number. Last year over one thousand people made that commitment to pray for our officers!
Central Lutheran Church, along with other churches and organizations in the area currently participates in the Shield a Badge Support Ministry. Volunteers sign up to pray daily for a member of the Casa Grande Police Department. You can use the form below to signup for the program.
Alternatively, the coordinator for Central Lutheran Church is Sandy Carpenter and she can be reached via phone at (703) 509-5651 or email at carpesm56@gmail.com. If you would like to volunteer to pray for an officer, contact Sandy and she will assign you an officer's badge number (No names or personal information are provided). The commitment is to pray daily for the safety and well-being of the officer. Daily prayer is the first mark of Discipleship.
If you so desire, personal contact with your officer may be made by a card or note addressed to their badge number at the Casa Grande Police Department, 373 E. Val Vista Blvd., Casa Grande, AZ 85122.