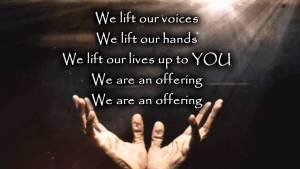 Stewardship — "What You Have First Given Us"
Merciful Father, we offer with joy and thanksgiving what you have first given us – our selves, our time, and our possessions, signs of your gracious love. Receive them for the sake of him who offered himself for us, Jesus Christ our Lord. Amen.
(Lutheran Book of Worship Offering Prayer)
Throughout the year we prayerfully reflect on how we view God's gifts, how these gifts are utilized, and how we trust in God's abundant blessings. We challenge ourselves to continue to grow in giving for our growing ministry.
Your contributions have made it possible for us to extend our benevolence too many areas of need.
We continue to celebrate our growth reflected in a greater number of worshipers, worshipers who have met their monthly offering goal (even when missing a worship service), and, those who have doubled their offering on the second Sunday of each month.
We have held the belief that many of us have had the ability to grow in our giving. Continuing to ask ourselves, "how come I don't give more?"
Your contributions have made it possible for us to extend our benevolence too many areas of need.
Thank you for your contributions to our growing ministry, helping us to grow our ministry within our congregation, to the Grand Canyon synod and the national church, and to those in need around the world.
Memorial Garden
The memorial Garden at Central Lutheran Church is an alternative burial site for human cremains of church members, friends, and families. Cremains are buried directly into the soil of the plant beds in the garden.
The Memorial Garden is a perpetual memorial to those whose cremains are placed in it. Additionally, this private and beautifully landscaped setting provides a peaceful atmosphere for remembrance and prayerful meditation in God's presence.
Families may purchase a bronze marker memorializing the deceased, which also supports the perpetual care of the Memorial Garden. However, no member of the church will be denied use of the garden for burial due to financial hardship.
Information brochure is available from the church office, or click here.
Special Fund — Casa Grande site
We have over $57,000 deposited in our property fund for the purchase of land for a permanent Casa Grande ministry site. There is no timetable set for when land may be purchased, yet your gifts will help direct the future ministry of our congregation. Contributions can be made through regular gifts, one time donations, or through personal estate distributions.
Thrivent Choice Program
Thrivent members can direct "Choice" funds to our congregation at the program's "online catalog." For information call 1-800-847-4836 and ask for "Thrivent Choice" or send mail to mail@thrivent.com